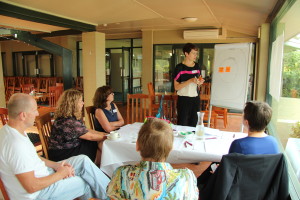 Why use a frame creation workshop?
In a frame creation workshop the core stakeholders and/ or design team members of an open, complex and networked problem come together to collectively develop new frames and solution directions for that problem. The frame creation workshop is the core element of the Frame Creation methodology developed by Kees Dorst.
How was the frame creation workshop developed?
Kees Dorst found that the framing practices of designers are similar to the practice of phenomenologists. We can therefore borrow methods from phenomenologists to support reframing problems which can help us develop new perspectives on these problems and open up new pathways to solutions. While I worked at the UTS Design Innovation Research Centre from 2013-2016 we developed a structured workshop set up based on the book 'Researching lived experience' by Max van Manen (1990), and the guidelines for thematic analysis developed by Dick Rijken. The workshop design evolved through our applications of the technique in social innovation projects.
How does it work?
Hermeneutic phenomenology is a method to identify and analyse themes. It is a means to research the meaning of 'lived experience'. In the workshop we first identify themes by searching for the reoccurring needs and aspirations amongst various stakeholders. These needs are gathered through various research methods prior to the workshop. We then proceed to further analyse these themes by investigating their meaning and relationships. A core element of the method is to explore the relations by sharing personal experiences related to a theme. For example, Dick Rijken suggests how to investigate the theme 'fear' through asking people: have you ever experienced fear? What triggered it? What did it feel like? What were you thinking? What changed it? What did you do? Did others play a role? By having different team members share these experiences in an iterative process a pattern can emerge that shows the structure of a theme. For example, fear is related in a structured way to insecurity, risks, confidence, uncertainty etc. Other ways to explore themes are consulting scientific literature and philosophy on specific themes; and gathering artworks that express a theme. The universality of the themes makes it possible to analyse them independent of customers or end-users, and independent of the problem context. To move from the themes to a reframe of the problem, it is useful to look at how the elements of the theme are dealt with in domains outside the problem context. Through using metaphors a frame can then be created which forms a bridge between problems and solutions. Different frames should then be analysed on their 'fruitfulness' i.e. the extent to which they open up the solution space.
van Manen, Max. Researching Lived Experience: Human Science for an Action Sensitive Pedagogy.  Albany, NY: State University of New York Press, 1990.